This year's Hot Wheels Garage series is divided according to the manufacturers, and the Mustang I'm featuring today, of course, belongs to Ford's Garage. Other manufacturers in the 2011 Garage series include GM, Ferrari, Volkswagen and Mopar. The complete list of the cars available in Ford's Garage is printed at the back of the card.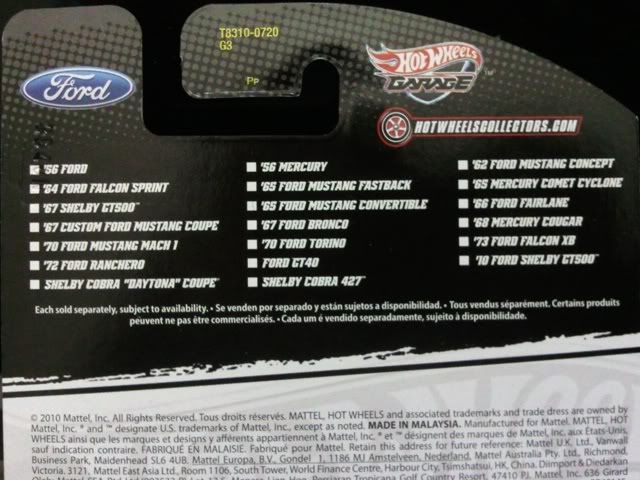 List of cars in Ford's Garage:
'56 Ford
'64 Ford Falcon Sprint
'67 Custom Ford Mustang Coupe
'70 Ford Mustang Mach 1
'72 Ford Ranchero
Shelby Cobra "Daytona" Coupe
'56 Mercury
'65 Ford Mustang Fastback
'65 Ford Mustang Convertible
'67 Ford Bronco
'70 Ford Torino
Ford GT40
Shelby Cobra 427
'62 Ford Mustang Concept
'65 Mercury Comet Cyclone
'66 Ford Fairlane
'68 Mercury Cougar
'73 Ford Falcon XB
'10 Ford Shelby GT500
There is a total of 20 cars in Ford's Garage, out of which 7 are Mustangs. Yay!! Anyway, let's get back to my second Mustang in the Garage series:
'65 Ford Mustang Fastback from Hot Wheels Garage 2011
Rubber wheels look good, but they don't spin smoothly. Well, it's not like you're going to use a Garage series car in a race anyway.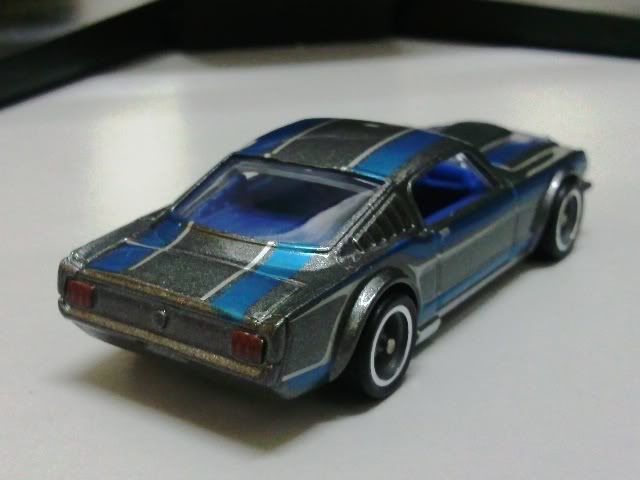 Overall details and quality are much better than a basic Hot Wheels die-cast, but with a price tag of RM20 (roughly equivalent to 3 basic Hot Wheels), it may not appeal to every collector. Do I love this car? Absolutely. But is it worth 3 basic Hot Wheels cars? I'm not so sure.