Today I'll be featuring two cars, and both of them are Chevrolet Camaros. Let's start with the first generation of Camaro from 1967:
'67 Camaro from Hot Wheels Muscle Mania 2010.
The grilles, front bumper and side exhausts are actually extensions of the base (by base, I mean the chassis of the car), which is metal, and not just chromed plastic. And that's a good thing.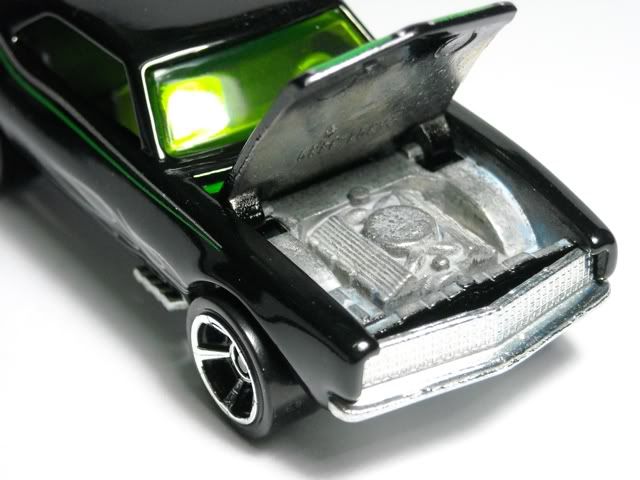 Oh, the hood can be opened too! It would be nice if the engine bay is chromed. But this is okay too, at least it's metal. Details of the engine bay are quite satisfactory.
And this, this is the reason I bought this car in the first place. Just look at the awesome flame tampo! I repeat, awesome flame tampo!
I'm not exactly sure why the car doesn't have any doors though.
Yes, the taillights and the rear bumper are attached to the metal base as well. Isn't this a lovely car? Personally, I think the paint job is perfect for this car. It definitely suits the image of a classic American muscle car.
Now let's take a look at the present 5th-generation Chevrolet Camaro.
'10 Camaro SS from Hot Wheels Garage 2010.
43 years went by, and the Camaro is still as beautiful as ever. Though these two cars are 4 generations apart, the design for the 5th-generation Camaro is based on the 1st-generation. And I think it's brilliant. Could you see the resemblance?