The other 2 Tomica I bought besides the GT-R.
Look! Look at the number!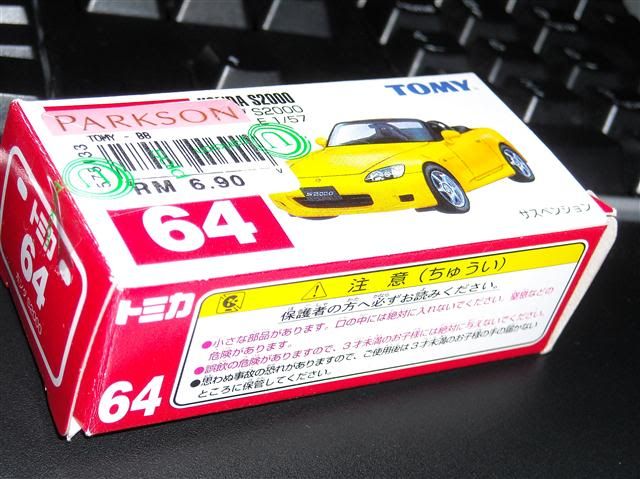 The S2000 is another great car from Honda. Too bad they went out of production (the real car). Guess I'll have to settle for this.
The sticker for the sun strip won't stick properly, but it's not that big a deal. The doors could be opened by the way, though I really don't see the point. They should have it on the S2000 instead. Otherwise, this is a great cast.
Honda has the tendency to make great cars, then totally stop their production for no apparent reason. Take the NSX, the Prelude and the Integra for example. That's why I bought this cast although yellow isn't really my favourite colour. I think it would look better in blue, red, black or white. And it really should have openable doors (by the way, is there such a word as 'openable'?). A few wordings on the place where they usually put the rear plate number would be nice as well. Otherwise, it looks rather plain and dull. The good thing is, the cast itself looks pretty sharp and well made. They did a good job with the paint too, as expected of a Tomica. The body paint is even, and the paint for the lights are exactly where they should be, instead of being misaligned or leaking out all over the place. A thumbs up for that.