I managed to cross out 3 cars from my wishlist today (which means I have to eat nasi lemak for dinner tonight...)
Nissan Silvia S15 from Hot Wheels 2006 First Editions: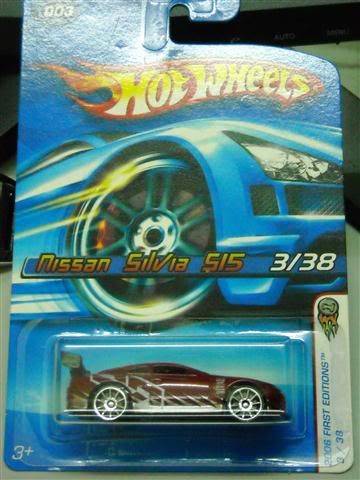 If there is ever a car that could be described as 'delicious', then this would be it. The Nissan Silvia S15 has always been one of my dream cars, and I've been looking for this cast ever since I found out about its existence (since I can't afford the real one). And it's finally mine! All mine! Muahahaha!
More pics to make you drool:
Now go and get a tissue.
Nissan Z (Silver and Gold) from Hot Wheels 2007 All Stars:
I used to think that any car would look ridiculous in gold. Well, not anymore. These 2 cars perfectly complement each other. The headlights and the tail lights aren't painted, but they still look amazing though. These would be my 4th and 5th 350Z, but they certainly wouldn't be the last.