I was browsing through Parkson at One Utama today (Tokio Hotel was there, but I couldn't be bothered to join the one-mile-long queue to get their autographs), looking for some HW Speed Machines in case they have the Scirocco GT 24 or the Ford GT LM. But they didn't have any. No signs of new wave at all. They really should refresh their stocks. Who knows if Bill Kaulitz is into Hot Wheels? So I was a bit disappointed... and I'm the type of person who just can't leave with empty hands. So I kept on looking... and I got myself some Tomicas! This is one of 'em: The Hasemi Tomica Ebbro GT-R 2009 Sepang Spec.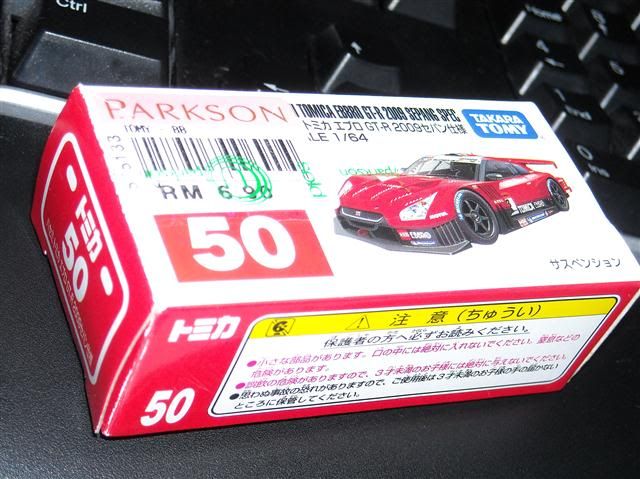 Hey, they mentioned Sepang in their name! Now Tomica collectors all over the world would realize about the existence of Malaysia. They would be wondering "Where the hell is Sepang? Let's google it up.."


This time, I had to use most of the stickers 'cos the standard tampo on the car are just the number 3 on the roof, the number 3 on the bonnet, and the GT-R emblem (the number 3 on the door is a sticker). If I didn't put any of the stickers, this car would just be a red GT-R with the number 3 on the bonnet and on the roof. Somehow the edges of the stickers aren't that obvious when compared to the Calsonic. I guess the stickers work better on red paint. But they're still quite noticeable, as you can see in the pics. Overall, I still love the car. My only complaint is that they should stamp the number 3 on the doors as the standard tampo. But then again, u can't expect much from a RM6.90 die-cast. And this car is definitely worth more than that.