The Jusco near my place recently restocked with the new wave of Hot Wheels. Here is one of the cars that came with it:
Mustang Funny Car from Hot Wheels Dragsterz 2011
At first glance, you might think that this would be the second colour variation of the
first Mustang Funny Car
of 2011, since they both have similar tampos.
But upon closer inspection, you will notice a lot of differences.
Compared to the blue Mustang Funny Car, this one has plastic headlights and grilles, plastic rear windows, and even the overall shape of the casting looks different. It's a bit wider than the blue one as well. The previous Mustang Funny Cars have a problem whereby the body could not close properly, leaving the front end slightly lifted from the chassis, but in this one the particular problem has been fixed..or so it seems. You see, what they actually did here was fix the front end permanently to the chassis. So now the body can't be opened anymore.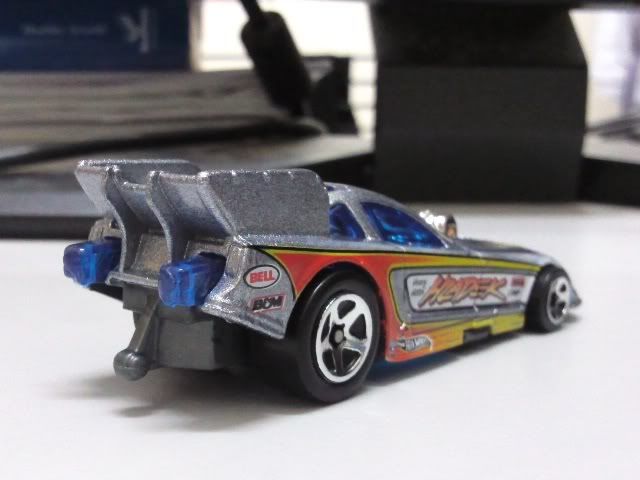 You can see here that some parts, which used to be die-cast metal, have been replaced with plastic, including the main chassis. Now this might seem like just another cost-cutting measure by Mattel.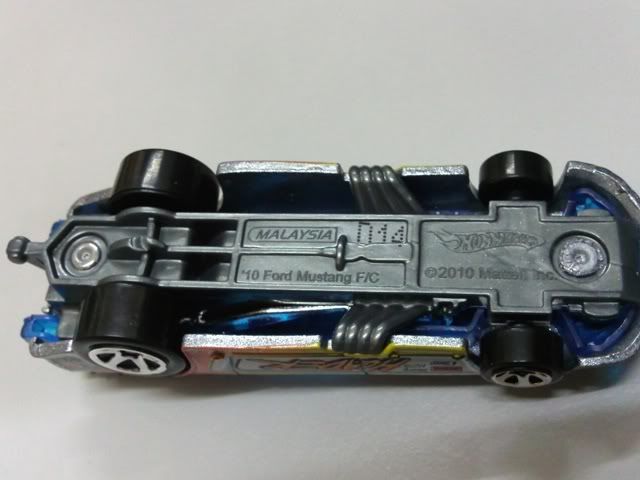 But if you look properly at the bottom of the chassis, you can see that this is actually an entirely new casting. The previous Mustang Funny Cars are actually '04 Mustang Funny Cars, while this one is a '10 Ford Mustang Funny Car. You can also see that this car was copyrighted in 2010, while previous Mustang Funny Cars were copyrighted in 2003. Oh, by the way, in case you still haven't noticed, even the illustrations on the cards are different.
So basically the previous Mustang Funny Cars were based on the 4th generation Mustang, while this one is based on the 5th generation Mustang. Just google image "2004 Mustang Funny Car NHRA" and "2010 Mustang Funny Car NHRA" and you will see the difference.